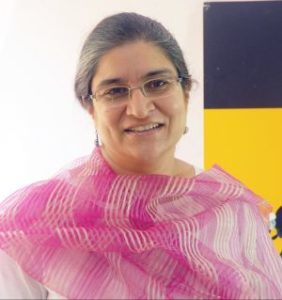 Earlier today, Alliance Magazine announced that the winner of the Fifth Olga Alexeeva Memorial Prize: Puja Marwaha, chief executive of Child Rights and You (CRY).
Considering that the prize, in addition to recognizing the work of outstanding individuals, is focused on contributions to the development of the philanthropic field, the judges reviewed the finalists taking into account their achievements, the work of their institutions and the context in which they operate.
The judges commented "Puja Marwaha illustrates some of the key elements critical for moving philanthropy. A driven leader who sets the tone and gives confidence that it is possible to mobilize resources. Her local fundraising efforts not only bring resources to her work but also bring credibility to the local organizations working on the same issues with the added benefit of using indigenous resources. At the same time, the institution, which she has worked with for many years, created a solid ground for the necessary structures to grow and be nurtured. Her institution, CRY, has been a leader in India in building the philanthropic field. They have been probably the first and the most successful to build all their work with Indian philanthropy (when majority of CSOs working in the rights and justice space were dependent on foreign monies). Importantly, they have been extremely comprehensive in their approach by looking at individual donors (both big and small), corporate philanthropy and regular middle class givers. They over the years have also supported some very difficult work, tackling root causes of social injustice and inequity."
This was not an easy decision, however.  "All six candidates demonstrated remarkable contributions within their own missions. The diversity of experiences among the final candidates also represents very well the various ways in which organizations are able to develop relevant work in contribution to philanthropy. We congratulate all final candidates for the Prize and praise them for giving this panel such a hard time."
The other finalists were:
Florencia Roitstein, ELLAS – Women and Philanthropy at CEDES (Argentina)
Frederick Mulder, The Funding Network (UK)
Henry Timms and Asha Curran, GivingTuesday (USA)
Priya Naik, Samhita Social Ventures (India)
Smita Ramakrishna, RangDe (India)
You can read about the achievements of all the finalists in a special Alliance supplement.
The prize will be presented at the 'Investing in Philanthropy Development' WINGS International Meeting for Funders to be held 26–27 March 2018 in Barcelona, Spain. The prize winner and all the other finalists will be attending the meeting and given an opportunity to showcase their work.
This year's judges for the prize were:
Amitabh Behar, National Foundation for India
Andre Degenszajn, GIFE, Brazil (chair)
Atallah Kuttab, SAANED for Philanthropy Advisory Services, Arab region
Janet Mawiyoo, Kenya Community Development Foundation
Natalya Kaminarskaya, Blagosfera Center
Click here to find out more about the Olga Alexeeva Memorial Prize.