by Rita Thapa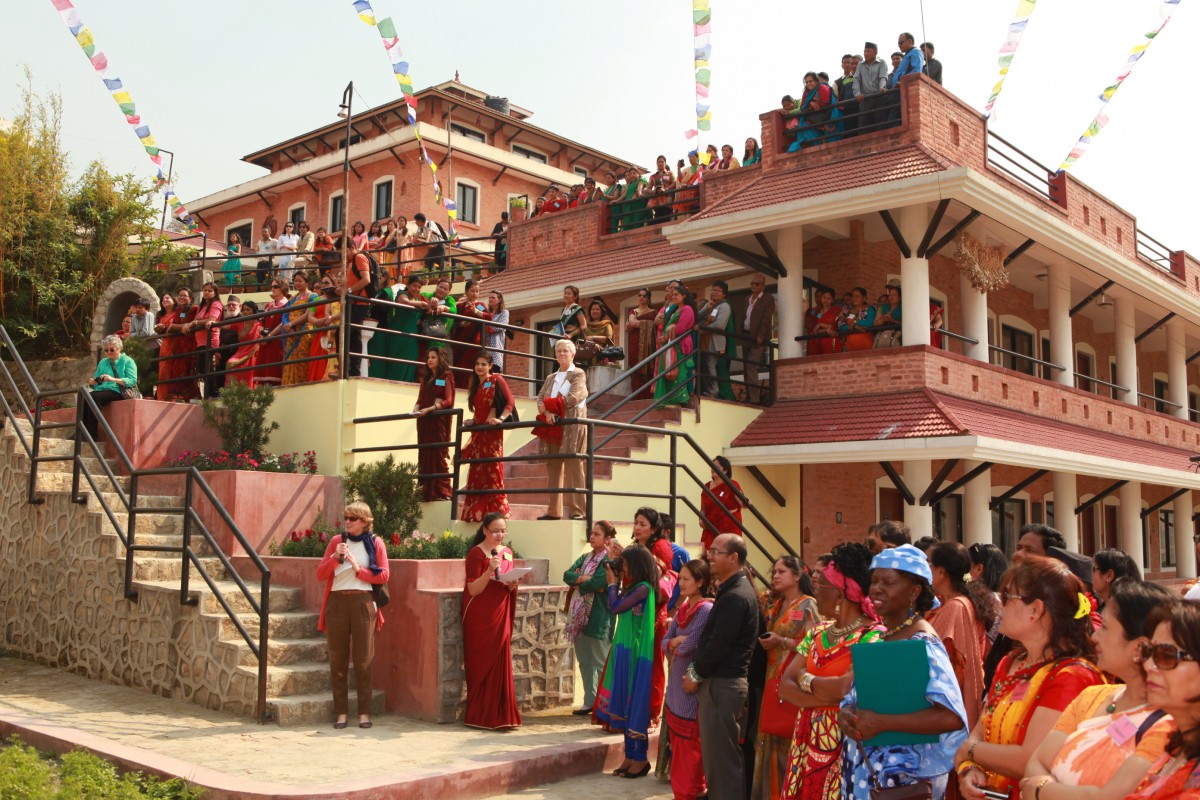 Photo: SC Closing Event 2 April 2014 at the Tewa Center – A Community of Donors
Just this month, I was witness to 3 philanthropic phenomena!
The 3 year long Samapanna Campaign (SC) was brought to closure at Tewa, the Nepal women's fund in Kathmandu,
I had the opportunity to participate in the Global Donor's Forum (with a focus on Arab philanthropy), and
Independent youth activists, painted powerful mural messages in Kathmandu, volunteering their time and pooling in necessary resources.
The SC had a goal to raise US $ 900,000.   We managed to raise US $ 1,000,000 including the well-timed gift of US $ 300,000, which came from a private Trust housed in the Royal Bank of Canada, Jersey Island, UK.  Of this total amount US $ 130,000, was gifted by Nepali donors alone, 90 Tewa grantee organizations from all over Nepal also became donors to the SC, and furthermore ALL the staff and almost all the members of Tewa became SC donors! 
In the 2014 Global Donors Forum with the theme of Celebrating Philanthropy in Emerging Economies, Zakat – the unexplored power of faith giving in Muslim societies disclosed amazing potentials.  Also knowing that in many other cultures and societies existing traditional philanthropies can be transformed to address all the existing and emerging social justice issues!
Living in Kathmandu, each day I am renewed as I learn of independent youth groups and individuals who are practicing the best form of philanthropy (without naming it as such) by giving of themselves, their time, and their resources.  Just this morning I was inspired to read that an individual named Sanat Kumar Shrestha in Pokhara of Kaski District constructed a government school costing 15 million rupees when the old building collapsed!  When the institution of the State withers and fails, is this an inevitable natural phenomenon?  Or is the world at a tipping point pulling itself out from ethical and environmental degeneration and degradation?
Owing to these, I am very hopeful and energized.  Philanthropy inherently exists – and can express itself according to varying contexts and time.  Surely as big institutions increasingly fail, the practice of humane community philanthropy is on the rise and will thrive!  We have much to learn from all sides!
Rita Thapa is the founder of Nagarik Aawaz, an initiative for conflict transformation and peace building in Nepal, where she previously founded and led Tewa – Nepal Women's Fund.