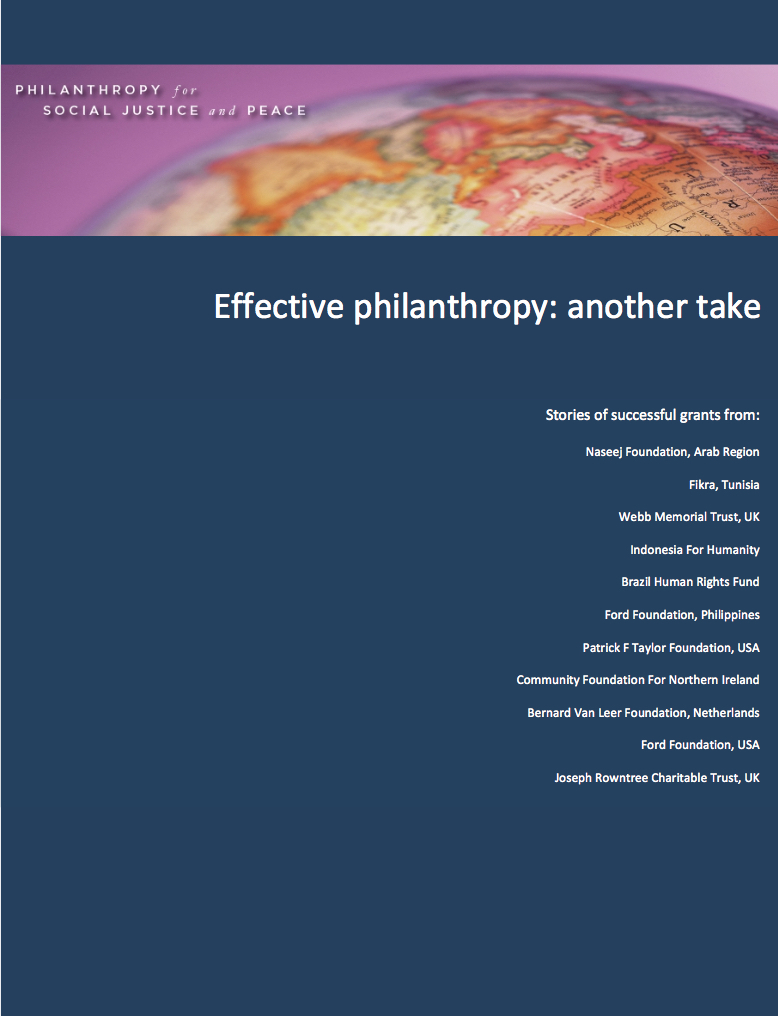 The Working Group on Philanthropy for Social Justice and Peace is thrilled to share with you Effective Philanthropy: Another Take, a collection of 11 stories describing a philanthropic intervention against some form of injustice (socioeconomic and/or political) at a local, national or global scale.
Each story addresses seven key questions grantmakers wrestle with in order to effect systemic social change.
What is the problem? What is the solution? How do we address it?  What are the risks?What are the challenges? What was achieved? What next?
The collection includes stories of successful grants for:
Supporting the Carbon Tracker Initiative which helped to bring the term 'stranded assets' into the mainstream of global economic thinking
Changing public perceptions of LGBT people in Northern Ireland
Championing the passing of a law in the US state of Louisiana to ensure equal opportunity for college education
Mobilizing collective effort to extend a local school in Palestine
Supporting the ideas and aspirations of local communities in Tunisia
Supporting a community's struggle to overcome the legacy of authoritarianism in Indonesia
Supporting the fight for justice for victims of structural violence in Brazil
Giving children a voice on poverty in the UK
Supporting programmes to improve the education system in the Philippines
Reducing violence in young children's lives
Developing an alternative economic narrative to challenge the prevailing globalization agenda
Read the introduction to the stories by the editors Caroline Hartnell and Andrew Milner
Get more information about the stories
Get in touch: chandrikasahai@gmail.com
Read what people are saying about Effective Philanthropy: Another Take
Share with your contacts and repost where relevant: 
Tweet #effectivephilanthropy
Edited by Caroline Hartnell and Andrew Milner
Produced by the Working Group on Philanthropy for Social Justice and Peace, April 2016