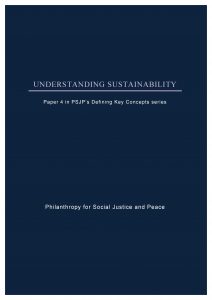 This is the fourth paper in PSJP's Defining Key Concepts series and it looks at the concept of 'sustainability' in development and philanthropy. (The first paper, published in October 2018, looked at the concept of 'Dignity' and the second, published in March 2019, looked at 'Leadership'. The third paper published last month (Nov 2019) was about 'Measuring social change'.
While 'sustainability' is everywhere in the language of development and philanthropy it is used in many different ways that makes this apparently simple term complicated in practice. Terms such as 'environmental sustainability' and 'sustainable development' suggest economic development without degradation or depletion of natural resources. 'Social sustainability' is about the wellbeing of people, their quality of life, and human rights. UNDP's 'Sustainable Development Goals' (SDGs) have much wider application including all the elements of sustainability mentioned so far and much else. The 17 goals represent an entire framework 'to end poverty, protect the planet and ensure that all people enjoy peace and prosperity'.
So, away from academic theory, the global framing of the UNDP and the goals of bilateral aid agencies, what does sustainability mean for the people and organizations that do the practical work on the ground? In order to explore this PSJP organised three webinar discussions on 23 September 2018 among 14 participants from the fields of development and philanthropy. The discussions explored the following four questions:
How does the concept of sustainability guide the work of your organization?
What does this mean in practice and how do you know if your work is successful?
What is the role of money in this?
What advice would you like to give to big funders? What kind of funding regimes would you ideally like to see?
The paper is a result of these conversations. It reflects what the practitioners' are sustaining and how? How do they know they are succeeding in building 'sustainability' and, what are the philanthropic practices that help build sustainability?
The aim of the paper is to provoke discussion and improve our understanding of 'sustainability' and in turn our practice. We welcome contributions to this discussion via comments and blogs sharing your understandings of the term 'sustainability'; any tips or tools you have encountered or developed for building 'sustainability'; the challenges you experience in this work; and the ways you are trying to assess whether or not you are successful.
This paper is based on research by Barry Knight and Chandrika Sahai for PSJP.
To comment or to take part in discussion on this topic, please write to chandrika@psjp.org